The joy that is me
Rule #1: Don't spend life preparing to live. Rule #2: Don't be a schmuck.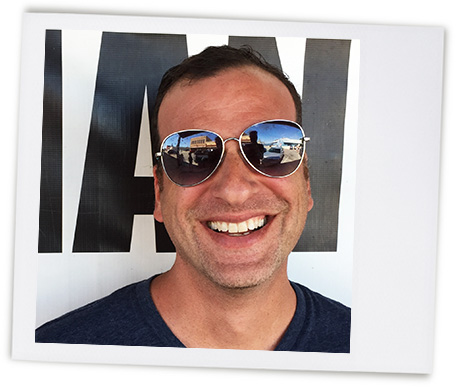 So, You Do Banner Ads. Seriously?
That and Some Other Stuff
One of my earliest memories is riding in a shopping cart at 4 and trying to come up with new logos for products in the cleaning aisle. I grew up working at Rotches Pork Packing, the family slaughter house and packing plant. Eschewing the multi-generational tradition of cleaver-wielding Rotches men, I now design and direct banner ad campaigns.
I enjoy the journey. I'd hardly do anything at all if I only acted on my good ideas. I base happiness on the ability to take and give a joke. I've got a wife, 2 daughters, 1 cat, 1 fish, 1 very smart dog and 1 very dumb dog named Crash. All of them make me laugh except the fish. That fish is a jerk.
I like cooking and getting really good at dumb things. Here are some of those things…
---
I Play the Tuba
I Perform Elaborate Practical Jokes
It has always been my firm belief that if you do something funny, it should be screamed off rooftops or barely audible. The Scoopy McSyrup project combined both. It took 1 year, hundreds of people and thousands of stickers carefully placed all over the world.
My friend Kelly Shea and I started calling our friend John Painz, "Scoopy McSyrup", and he hated it. We told everyone he knew that it was his new name. Then we asked everyone he knew and complete strangers to take the stickers we had printed with his secret logos and put them everywhere they could think of. We then talked to his girlfriend, who told his family and their friends to do the same.
The key ingredient to this joke was that although John knew that we were calling him Scoopy, he did not know that he had a logo being posted all over NY, the USA and the world. He did not know about the CafePress store or ScoopyMcSyrup.com, or that we sold his stickers on ebay.
At the end of a year, we had a Halloween Party and packed a bar with people wearing Scoopy McSyrup merchandise and soda jerk hats with his logo on them. We had tricked John into adopting his nickname for his costume, convincing him that if he just gave in to the nickname, people would stop calling him Scoopy. He showed up dressed as an old-timey soda jerk and carried in 10 quarts of ice cream. His original reaction, a shocked and whispered "WTF", then violent screaming which was quickly ameliorated by some woman I had never seen before running up and asking him to sign her Scoopy McSyrup Thong. Surprisingly, he didn't kill us.
I Play Pool Competitively
I Collect Joker Playing Cards
I Juggle Fire
I Host Occasional Pie Fights
I Carve Pencil Tips